Treat your taste buds to these classic pork souvlaki kebabs marinated in delicious lemon and garlic. Grill the kebabs until they're tender and juicy and serve with basmati rice and an enticing homemade yoghurt-cucumber sauce.
Serves 8. Prep: 90 Minutes, Cook: 12-16 Minutes.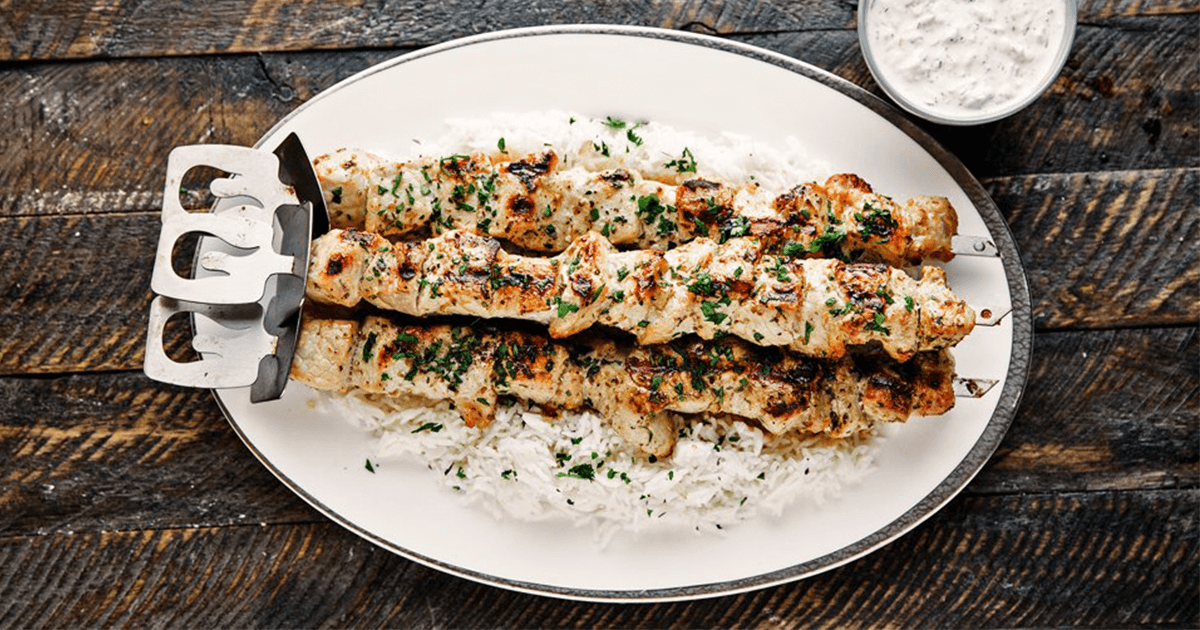 INGREDIENTS



For the Pork Kebabs


2 pounds pork loin, cut into 1" cubes



For the Marinade


1/2 cup olive oil
zest and juice of 2 lemons
2 tablespoons red wine vinegar
4 cloves garlic, finely minced
1/2 small yellow onion, peeled and diced
2 tablespoons dry oregano
salt and pepper to taste



For the Yogurt-Cucumber Sauce


1 cup Greek yoghurt
zest and juice of 1 lemon
1 tablespoon fresh dill, chopped
1/2 cucumber, seeded and grated
salt and pepper to taste
DIRECTIONS
Preheat grill to 375°F.

Combine olive oil, lemon zest and juice, vinegar, garlic, onion, oregano, salt and pepper in a large bowl. Add pork and mix until it is coated on all sides. Marinate for 1 hour overnight.

Evenly thread pork cubes onto 4 metal skewers.

Place skewers on the grill. Cook for 6 to 8 minutes per side until the pork reaches an internal temperature of 145°F and is golden brown.

Combine yoghurt, lemon zest and juice, dill, cucumber, salt and pepper.

Serve your grilled pork kebabs over basmati rice with a side of yoghurt-cucumber sauce.
Source: Char-Broil
Check out Char-Broil BBQs & Accessories.