Serves 2-4.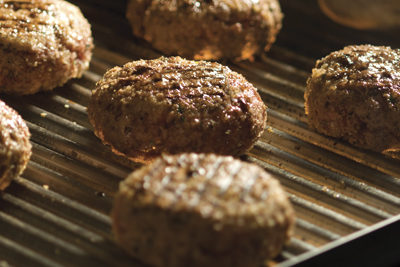 INGREDIENTS
 500-600g beef, minced
 1 egg
 2 tablespoons flat leaf parsley, roughly crushed
 1 tablespoon sage
 1 sprig thyme
 1 sprig rosemary
 3 teaspoons salt
 1 teaspoon ground pepper
 1 tablespoon ground cumin
 ½ tablespoon ground cloves
 1 tablespoon coriander seeds
 1 medium red onion, finely chopped
 4 tablespoons olive oil
 4 burger buns
DIRECTIONS
Finely chop all herbs. Mix all the ingredients together except olive oil and the buns. Mix well. Leave to stand or refrigerate overnight.

Place the grilling pan over high heat. Shape the meat mixture into four burger patties. Brush one side of the patties with oil. Place the oiled side down onto the grilling pan and cook over medium heat for 3-5 minutes. Brush with more olive oil before turning over. Cook for another 3-5 minutes.

Place the patties in the buns and serve immediately with your choice of condiments or a green salad.
BBQ TOPS:


Carri Chef 2
Grillo Chef 2 BBQ Top
Safari Chef 2 BBQ Top



BBQ 2 PLANCHA TOPS:


Carri Chef 2 BBQ 2 Plancha Top
Grillo Chef 2 BBQ 2 Plancha Top
Safari Chef 2 BBQ 2 Plancha Top
TIP
Any other minced meat or fish make excellent substitutes.
Source: Cadac
Check out Cadac BBQs & Accessories.