Why use disposable barbecues that will inevitably clog the campsite bins and pollute the environment when you can use a portable, multifunctional gas BBQ? For us, it's a no brainer.
Part barbecue and part camping stove, cooking solutions like Campingaz Party Grill 400 and Cadac Safari Chef 30 LP or HP are perfect for a weekend away, a picnic at the beach or an informal BBQ in the backyard. They both are compact, easy to assemble and disassemble, and light enough to be carried with you on your outdoor adventures and events.
So, what's the difference between them?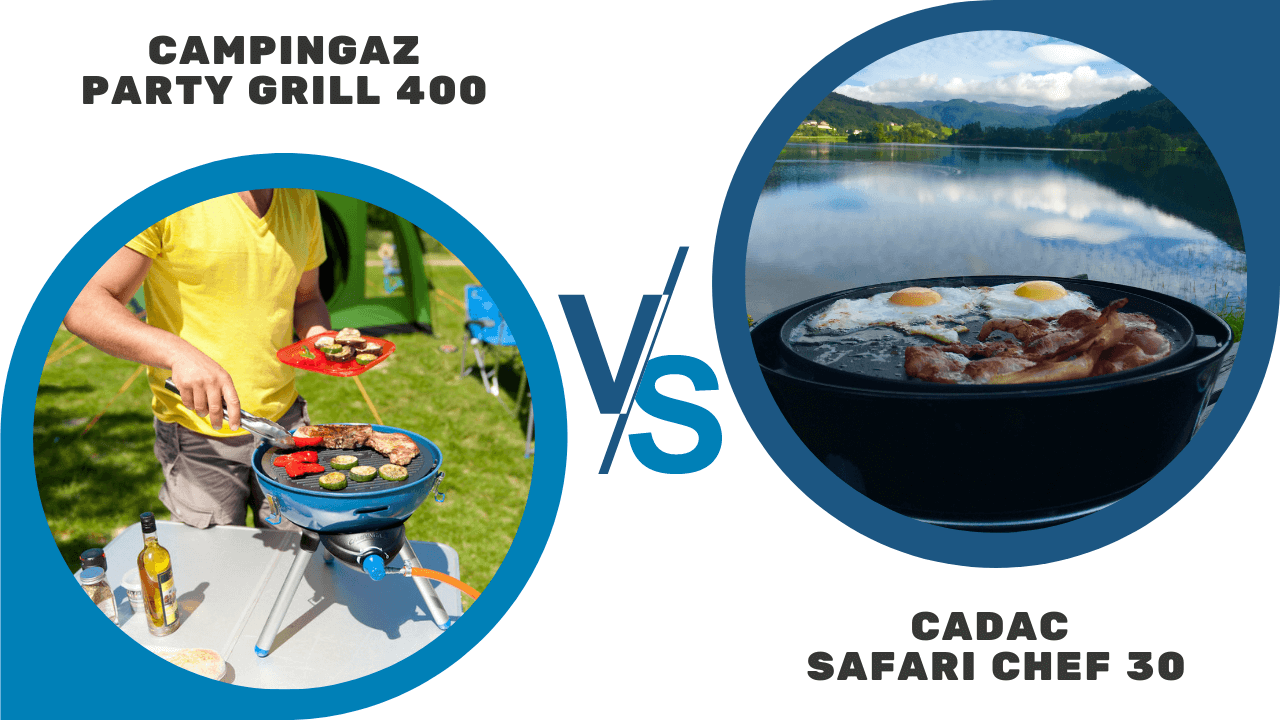 Campingaz Party Grill 400
Campingaz Party Grill 400 is a reliable and practical gas stove that includes 4 different cooking options:
The

hob

- where you can warm up a kettle or cook with a pan or a pot;

The

grill

- to barbecue meat, fish or vegetables;

The

reversible plancha/griddle

- that allows you to add two cooking styles by only using one support while also saving space and weight;

The

wok

- the lid easily turns into a wok, allowing you to prepare delicious stir-fries on a whim.
This Campingaz product is ideal for a small party or a family. It weighs less than 5kg and comes with a comfortable carry bag. The legs are easy to detach and can be packed inside the stove itself, while all the different cooking surfaces fit into each other and clip into place underneath the lockable lid. The compactness of Campingaz Party Grill 400 is undoubtedly one of the main distinctive features that set this stove apart from the rest.
Another quirky feature is the lid that can be flipped around and used as a wok, adding even more cooking options. The Campingaz Party Grill 400 also includes a non-stick grill, a non-stick and reversible plancha/griddle, and a deep grease catch pan designed to be filled with water to simplify the cleaning. This pan catches all the grease and cooking juices, preventing them from sticking to the stove and creating fires. When finished, just empty it and rinse it off with soapy water.
The pan support, grill and plancha/griddle are dishwasher safe but can also be easily cleaned with a sponge and soapy water.
The stove works off Calor Gas or Campingaz refillable cylinders.
Cadac Safari Chef 30 BBQ
Cadac Carri Chef 30 BBQ is an easy to assemble and easy to use portable gas barbecue. It comes with 4 different cooking options:
The

hob

The

BBQ grill

The

flat plate

The

lid that turns into a pot
The unique Cadac Modular System offers even more cooking options by simply adding extra surfaces, such as:
When buying Cadac Safari Chef 30, you've got the freedom to create your own combo and add as many cooking surfaces as you want.
This Cadac gas BBQ weighs less than 4kg, and it's easy to pack away into its own carry bag, thanks to the foldable legs and the pans that perfectly fit into each other. It's also effortless to clean: just remove all the surfaces from the barbecue and rinse them with soapy water.
What really sets Cadac Safari Chef 30 apart is its versatility and the high quality of the materials. All cooking surfaces are ceramic coated and PFOA free, so they cool very quickly and allow you to prepare healthier food. The lid/pot and the fat pan with flame peepholes are both porcelain enamelled.
This product comes in HP and LP versions. The Cadac Safari Chef 30 LP operates from any regulated butane/propane cylinder, while the HP works with any disposable threaded camping cartridge (not included). It is also possible to convert the Safari Chef 30 from LP to HP using the Cadac EN417 Regulator Assembly.
You can find all Cadac gas options available in this article.
Final Thoughts
Both Campingaz and Cadac are trustworthy companies with decades of experience in the industry.
Campingaz Party Grill 400 and Cadac Safari Chef 30 are very similar in dimension, power and weight, with Cadac being slightly lighter and Campingaz being more compact to pack. They both work with piezo ignition and a knob to control the temperature. Even prices are not that dissimilar between the two products.
The significant difference is the versatility.
Cadac Safari Chef 30 offers a wide range of Modular Cooking Surfaces, including a pizza stone and is available to use with both gas cylinders (LP) and disposable cartridges (HP).