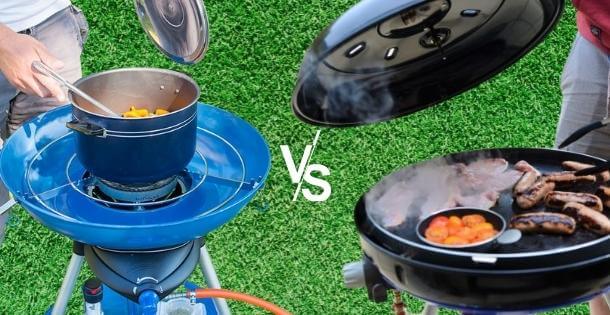 There's nothing better than a smoky and smelly charcoal BBQ when outdoors. Or is there?
Although cooking over a fire has its charm, starting a campfire is not always possible and practical. So, what to do to get your meals done when outdoors? Is there anything that would grant you more cooking options than just a camping stove? The short answer is: YES.
Gas barbecues and stoves are the perfect solution for quick, smokeless cooking, with the bonus of a much wider variety of meals available than a charcoal BBQ.
If you are set for a backyard BBQ party or are planning a weekend away with the family, you need a big cooking surface, like a Campingaz Party Grill 600 or Cadac Carri Chef 50 BBQ. Read on to discover the difference between the two and how you can find the perfect cooking solution for your outdoor living needs.
Campingaz Party Grill 600
Campingaz was one of the first to introduce gas-powered barbecues in Europe in the late '90s and is still a very renowned company.
Campingaz Party Grill 600 is a reliable and practical gas stove that includes 4 different cooking options:
The hob - where you can warm up a kettle or cook with a pan or a pot
The grill - to barbecue meat, fish or vegetables
The reversible plancha/griddle - it allows you to add two cooking styles by only using one support while also saving space and weight
The oven - the lid includes a thermostat, so when closed down, it creates a proper oven, where you could even bake some bread or a pizza by using

Campingaz Modular Pizza Stone

.
With a cooking surface of 46cm, this Campingaz product is ideal for a party and can feed 4 hungry people or 6 sensible eaters. It weighs less than 11 kg and comes with a comfortable carry bag so that you can take it with you on your days out at the beach or the park.
Some features that set Campingaz Party Grill 600 apart are the non-stick grill, the non-stick and reversible plancha/griddle, and the deep grease catch pan, designed to be filled with water to simplify the cleaning. This pan catches all the grease and cooking juices, preventing them from sticking to the stove and creating fires. When finished, just empty it and rinse it off with soapy water.
The pan support, grill and plancha/griddle are dishwasher safe but can also be easily cleaned with a sponge and soapy water.
The stove works with Calor Gas or Campingaz refillable cylinders.
Cadac Carri Chef 50 BBQ
Since its foundation in 1948, Cadac was set to break the boundaries of conventional outdoor cooking and become one of the top brands for BBQs lovers, campervan and caravan enthusiasts worldwide, thanks to its versatility and wide range of modular cooking surfaces.
Cadac Carri Chef 50 BBQ is an easy to assemble and easy to use portable gas barbecue. The standard setup comes with 3 different cooking options to feed 4 to 6 people:
The hob
The 46cm BBQ grid
The oven
And that's just the start!
Cadac offers 8 more cooking surfaces:
When buying Cadac Carri Chef 50, you can create your own combo and add as many cooking surfaces as you want. The sky is the limit.
This Cadac gas BBQ weighs a bit more than 10 kg, and it's easy to pack away into its own carry bag. It's also effortless to clean: just remove all the surfaces from the barbecue and rinse them with soapy water.
What really sets Cadac Carri Chef 50 apart is its versatility and the high quality of the materials. All cooking surfaces are ceramic coated and PFOA free, so they cool very quickly and allow you to prepare healthier food. The dome lid is porcelain enamelled with stainless steel heat deflector, thermometer, and stay-cool handle. It can also be clipped back and used as a windshield and splash-back protector. The heat system is also very well designed, as an integrated spreader under the grid ensures that the heat is evenly distributed over the entire cooking surface.
This product works with Calor Gas or Campingaz refillable cylinders. You can find all Cadac gas options available in this article.
Final Thoughts
Both Campingaz and Cadac are trustworthy companies with decades of experience in the industry.
Campingaz Party Grill 600 and Cadac Carri Chef 50 BBQ are very similar in dimension, weight and power. They both have piezo ignition and a knob to control the temperature. They both run on Calor Gas or Campingaz refillable cylinders, like propane and butane and consume pretty much the same amount of gas per hour, with Cadac being slightly more efficient.
Both BBQs are easy to assemble and pack away, with Campingaz being slightly more compact.
The significant differences are the price and the versatility.
Campingaz's starting price is far lower than Cadac's basic combo, but it offers more cooking options, thanks to the reversible plancha/griddle. But when it comes to versatility and quality, Cadac Carri Chef 50 BBQ is well worth its price. The components are extremely well designed and manufactured, and the wide range of modular cooking surfaces makes outdoor cooking more varied and accessible.