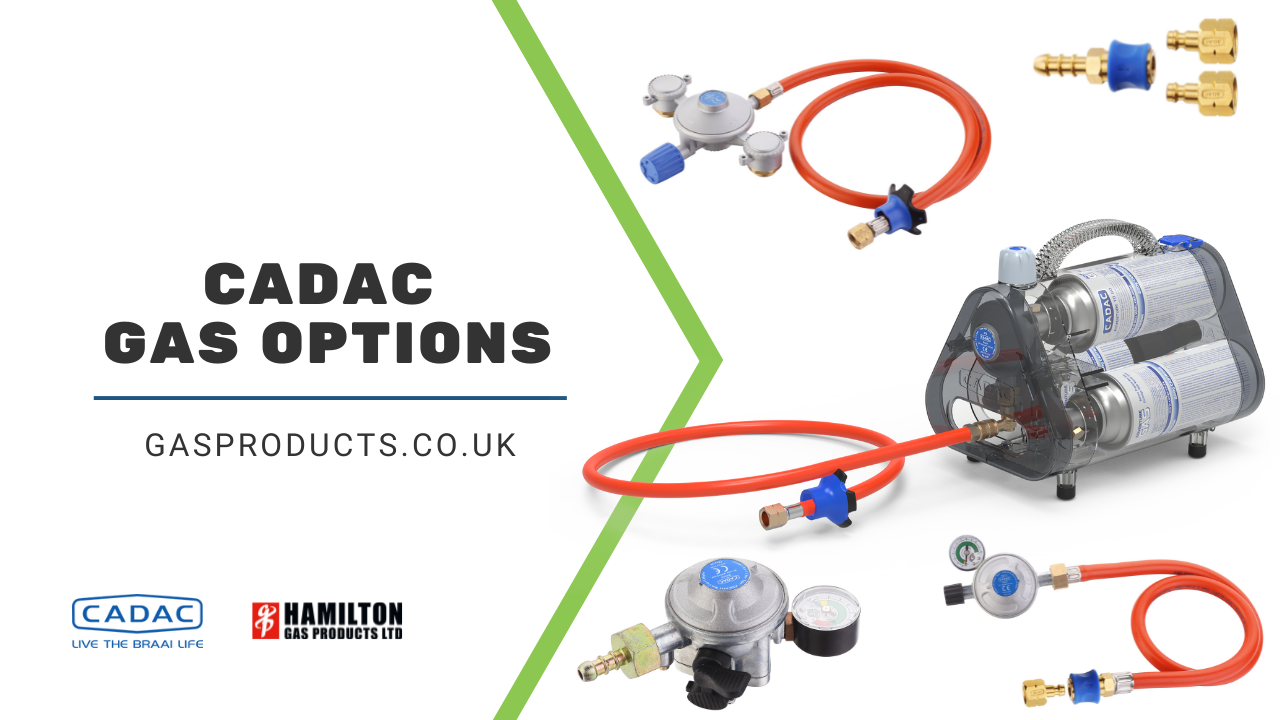 You've got a new Cadac BBQ - congratulations!
Now, it's time to connect it to the gas supply and start cooking. If you're concerned about safety or are unsure about the gas options available for your Cadac BBQ, we're here to help. Read on and find out what regulators, adaptors and other gas accessories you can use to enhance your outdoor cooking experience.
Gas Regulators
If you want to use your Cadac BBQ by connecting it to a gas bottle, you can choose between Patio, Campingaz, Propane or Butane. We recommend Patio because it's a perfectly balanced LPG combination specifically designed for outdoor use.
When using a gas bottle, the pressure needs to be regulated between 28 and 37mBar. How can you be sure that the pressure is always correct and your Cadac BBQ works safely?
That's easy: you just need the right gas regulator.
All these regulators can be easily clipped on and off the BBQ, thanks to the Quick Release (QR) fitting. The QR also acts as a safety measure, stopping the gas flow if the joint is disconnected from the BBQ and preventing leakages. The regulators are equipped with an overflow indicator to monitor the gas level and an Excess Flow Valve (EFV), an automatic hose safety feature that cuts off 90% of gas flow if the hose is compromised. So, if you're worried about safety, rest assured that these regulators will give you the peace of mind you deserve to enjoy your outdoor cooking with Cadac fully.
Gas Adaptors
Gas bottles are great because they can power your BBQ for many hours, but they all have one defect: they're bulky and heavy.

If you like travelling light, the ideal solution is to swap the gas bottle for a threaded cartridge. In order to do so, you have to convert your Low Pressure (LP) appliances to High Pressure (HP), and we've got exactly what you need for the job:
Both adaptors come with an 85cm hose and are suitable for all EN417 gas cartridges.

Now, a single 500gr gas cartridge can only last a few hours, which is perfect for a picnic at the beach or a family dinner in the garden. But if you want to take your BBQ with you for a weekend away, you may need more power. Cadac thought about that too and created the Dual and Trio Power Paks:

You can use the Dual and Trio Power Paks on any LP Cadac BBQs, as they both come with a hose and universal screw connection to the BBQ.
What if you own an HP Cadac BBQ, like the Safari Chef 30 HP, for example, and want to use it with a Propane gas bottle? We've got the solution for that, too - it's the Adaptor Set HP to LP Propane POL. This set allows your HP gas BBQ to be connected to an LP Propane gas cylinder instead of a threaded cartridge. It comes with an 85cm hose and a handwheel tightening.
Other Gas Accessories
BBQ Point Gas Hoses
If you have a camper, caravan or motorhome, you also have the option to connect your Cadac directly to the external BBQ point. All you need is the right gas hose and fitting. We offer 2 different sizes of gas hoses, all easily connected (and disconnected) with the QR valve system:
Both hoses include a male QR tailpiece to enable Cadac Grillo Chef or Carri Chef BBQs to accept the hose. Not compatible with Bullfinch external BBQ point fittings.
Couplings
A QR coupling is an indispensable tool to connect and disconnect your gas hose quickly and safely. Its ¼ inch left-hand tread tailpiece is suitable for all Cadac LP BBQs, and the QR mechanism incorporated in the coupling acts as both a self-sealing valve and an easy clip-on/clip-off system. Just screw the nut in situ with a spanner and hand attach the tailpiece with its coupling and hose.


We also have a QR coupling with 2 male nuts for switching between appliances on a single gas supply, so you can use your BBQ and then switch to another cooker in just one move.