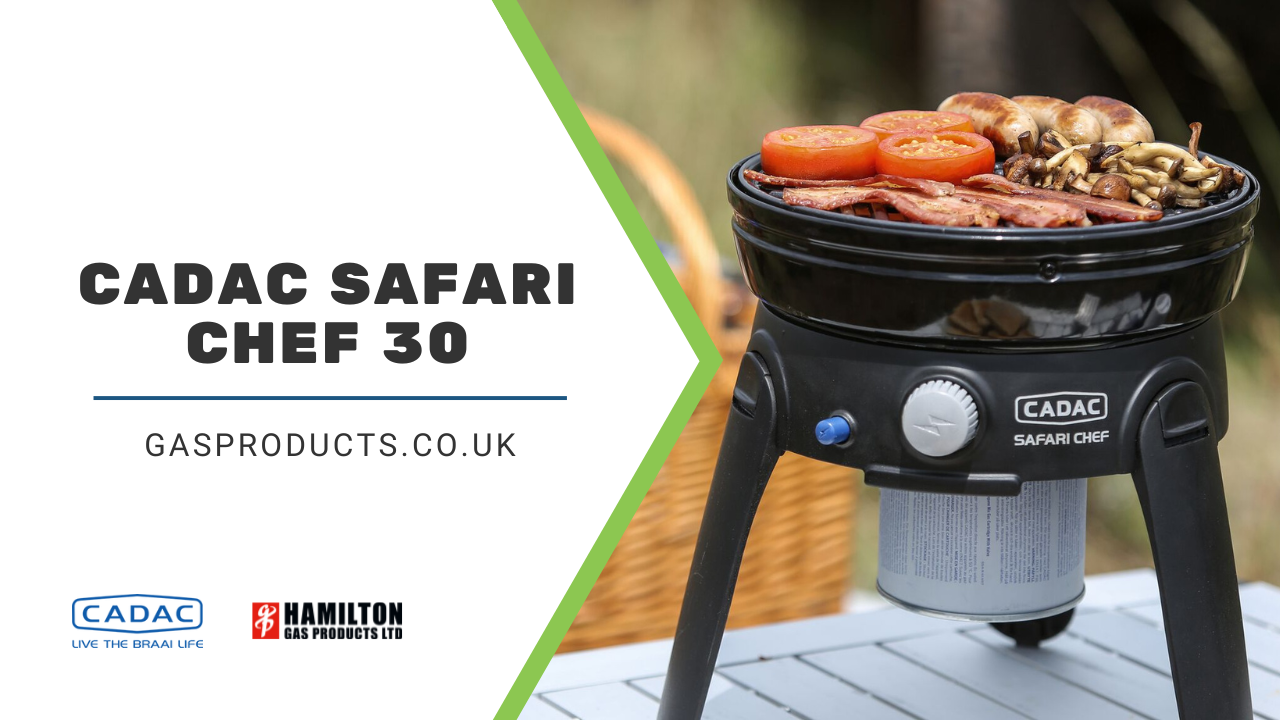 There's a reason why the Cadac Safari Chef 30 is widely regarded as the UK's number one camping & caravanning necessity!
Portable and versatile, the standard, low-pressure (LP) version of the Cadac Safari Chef 30 offers a variety of cooking tops:
BBQ Grill (

30

cm)

- to grill meat, poultry, fish and vegetables.

Flat Plate (

30 cm

)

- to make stir-fries, breakfasts, and pancakes.

Removable

Pot Stand - to boil water and make tea & coffee.

Enamelled

Pot/Lid - to use as a lid or flip it and use it as a wok for delicious stir-fries.
And if you're looking for even more cooking options, our Ultimate Cadac Safari Chef 30 Bundle also includes:
This product comes in HP and LP versions. The Cadac Safari Chef 30 LP operates off any regulated butane/propane cylinder, while the HP works with any disposable threaded camping cartridge (not included). It is also possible to convert the Safari Chef 30 from LP to HP by using the Cadac EN417 Regulator Assembly.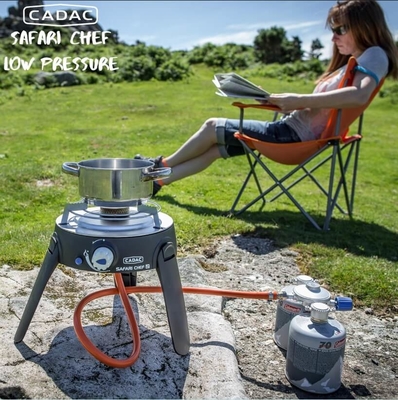 When travelling light is essential, you can also opt for the Cadac Safari Chef Lite model, only including the pot stand, the BBQ grid and the pot/lid. This product is also available in HP and LP versions. The HP version works with any disposable EN417 threaded gas cartridge (not included) which fits directly into the BBQ, while the LP version is fueled by any 2.8kPa supply.
The Cadac Safari Chef 30 Pro QR with the extra lid is another great alternative for this product range. It works off gas cylinders at the operating pressure of 28-30mbar on butane or 37mbar on propane. It is also suitable for use with regulated gas supplies from a BBQ point on caravans and motor homes. The Safari Chef 30 Pro QR comes with an integrated Cadac Quick Release Tailpiece. To convert it from LP to HP cartridge, just use a Cadac EN417 Regulator Assembly QR.
Other Popular Accessories: